Select on some Tuesday guest star shit...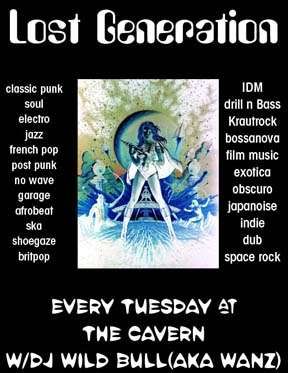 Our boy
Select
is gonna be guest starrin tonight at Wanz's
Lost Generation
Weekly. It goes down every week at the Cavern in Lower Greenville. From what I understand it's that smoked out open drug use scene w/ some random drunk chicks here and there. Wanz has more records than anyone is supposed to have and Select is ... well, a party, so there you have it. If see Select, start yelling "snakes on a plane" and he'll probably do a double backflip.
If you haven't heard, the new "En La Calle" section is loaded up with new joints so get to downloading... Dope Sizzla joint, some Low B, Tiger in Harlem throwback... The 8ball joint is SICK!!! We dropped a little snippet of Select's mixtape too. We'll have a full write up on that CD and where you can scoop it later this week. The EnLaCalle section changes every week so get these tunes NOW cause we WONT repost 'em.
Also don't forget to re-add
Nature
to your likkle myspace. By now you probably know that his got sunk. Dude's a little salty about it so add him up and hopefully he's stop mad muggin random white people. "Yo... you see him lookin at me dude, YO what the fuck are you lookin at!!!, yo, you see that dude....". Help.